Last updated on April 4th, 2019 at 05:58 am
Our first trip to Paris followed our Viking River Cruise down the Rhine, from Basel to Amsterdam. After a few days in Amsterdam, we took the Thayles high speed train from Amsterdam to Gard du Nord in Paris. Wow! That was a great train ride.
After our arrival in Paris, we picked up a 10 caret of Metro tickets and hopped on to the RER south to the Metro stop at Denfort Rochereau. It was a long walk, plus three flights of stairs up and back down to get to our train, the #6 line, to the La Motte Picque Grenelle stop.
We stayed at the Citadines Tour Eiffel at that stop. We chose it for a couple of reasons. First of all, they had what they call Apart-hotel rooms. Sort of like small apartments, rather than just a hotel room. Also, it was located at an intersection of three different Metro lines. That way, we could go north, south, east or west to visit all parts of Paris. It was within easy walking distance to the Eiffel Tower. Finally, there is a Farmer's Market under the tracks as well as another Farmer's Market a couple of blocks away. We were able to visit both markets while we were there.
What more could you ask for.
We toured the city using the hop-on, hop-off bus. We would get off at a stop, wander around to see the sights, then catch the next bus to the next destination.  This is a great tool to get oriented to a new city. After doing it in Paris, we decided that we should go back to visit some local destinations and were able to enjoy San Francisco and Washington DC via the hop-on hop-off bus. We have been using the Big Bus since it has an app for our phones as well as a great website to better plan our trips.
We took the Metro all over town as well. One important Metro stop that we used often was the one at Tuileries. It is just a short walk from there to the office where we had ordered our tours. We ordered them online through Viator, but picked up our tickets at the Paris City Vision office. Keep in mind that they have two offices, so check your vouchers to make sure that you are at the right office. They are only about a block apart, so if you are at the wrong one, you can quickly get to the other one.
 (To make it easier for you to navigate in Paris, many of these photos have been captured from Google Maps Street View and is a live link back to the original Google Map. Click on the photo so that you can look around to get your bearings. This is a great tool. I always try to walk the streets before I actually visit a new city. Also, if it is available, I will book a Big Red Bus tour in a new city.)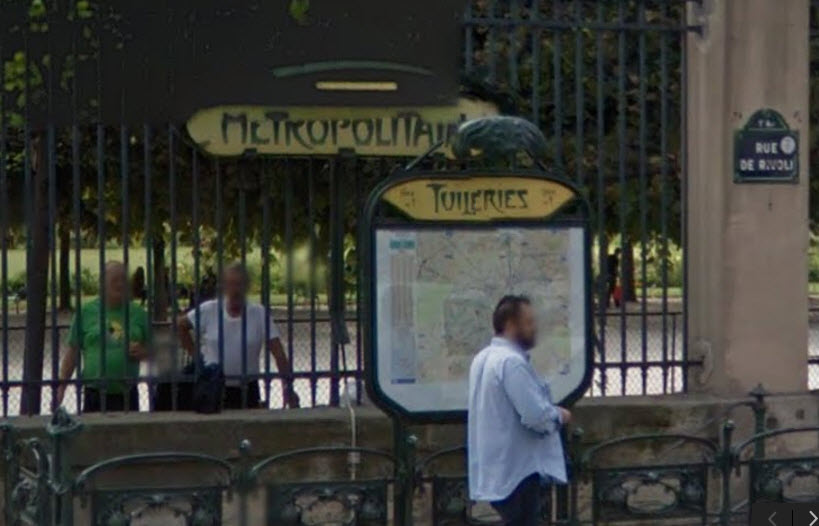 This stop is also very close to the Louvre. There is another stop that is closer, but since we had purchased the small group walking tour of the Louvre, we met our tour guide at the tour office at the Hotel Regina.
The Paris City Vision office (located just in front of the white vans behind the statue) is at Hotel Regina.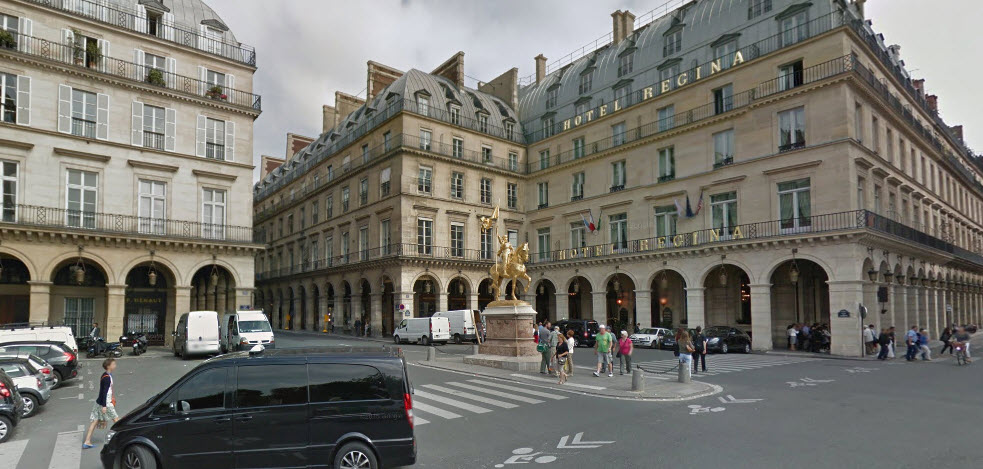 Often, we arrived early for our tours, so after exiting at Tuileries, we walked across the street and turned right, heading toward the Hotel Regina about one block away. At the hotel, we turned left and walked up Rue des Pyramides to enjoy a great little sidewalk cafe, La Rotonde des Tuileries.
This is only a block away from where we would catch our bus to the Eiffel Tower for dinner or our walking tour of the Louvre.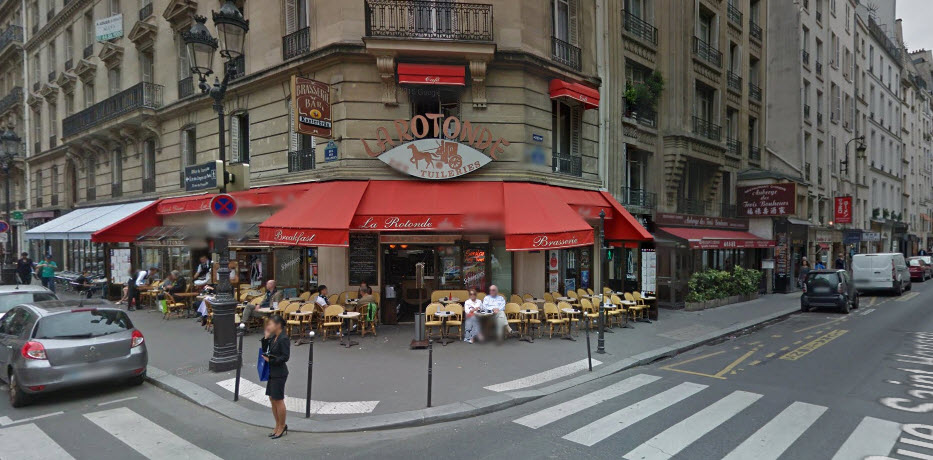 After a little snack, we walked down to #2 Rue des Pyramides, on the left, at the Hotel Regina.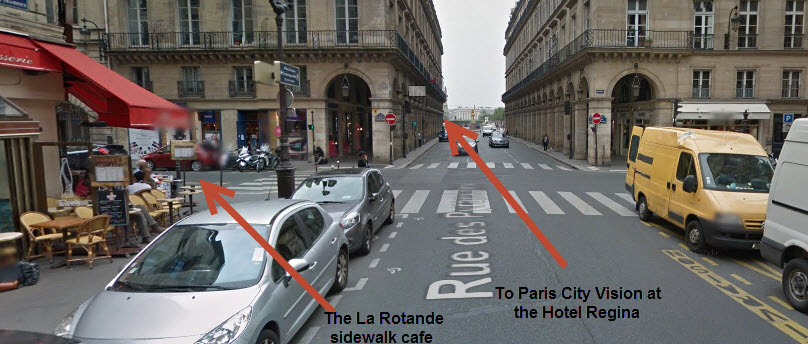 We opted to purchase a dinner and river cruise through Viator so that we didn't have to wait in any long lines at the Eiffel Tower. This tour was handled by Paris City Vision. As you might expect, having dinner in the Eiffel Tower as well as seeing the lights of Paris on the river cruise is a wonderful way to experience Paris.
If you chose to tour the Louvre on your own, rather than to use a group tour, they you will want to take the Metro directly to the Palais Royale de Musee Louvre Metro stop.
Get off at the Palais Royale de Musée Lourve metro stop.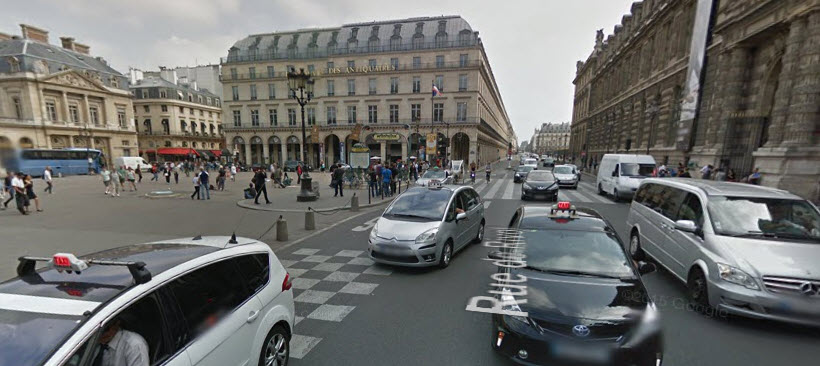 When you exit the station at the large open square shown above, you are just a short walk from the Louvre.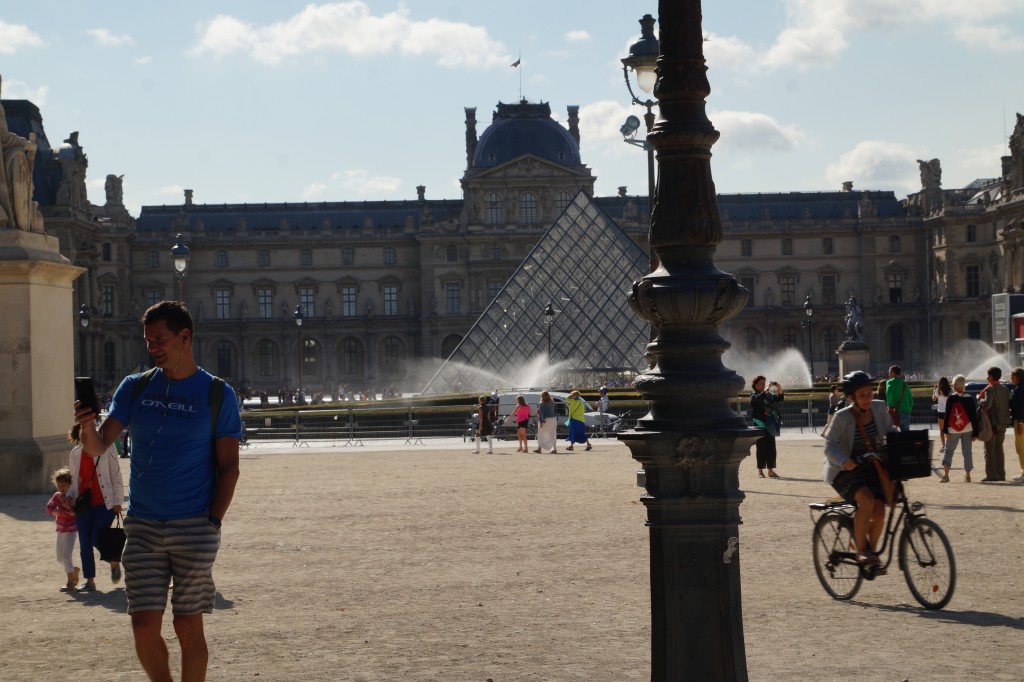 We had a great guide and a wonderful visit at the Lourve, and were able to get great views of everything but the Mona Lisa.
That room was so crowded that unless you wanted to push through a hundred people, you were not going to get very close. As you can see from the photo below, you had to hold your camera above your head and take several shots. None of mine came out without someone or something in the way. I should have had a selfie stick, but I hadn't ever seen one before our first trip to Paris.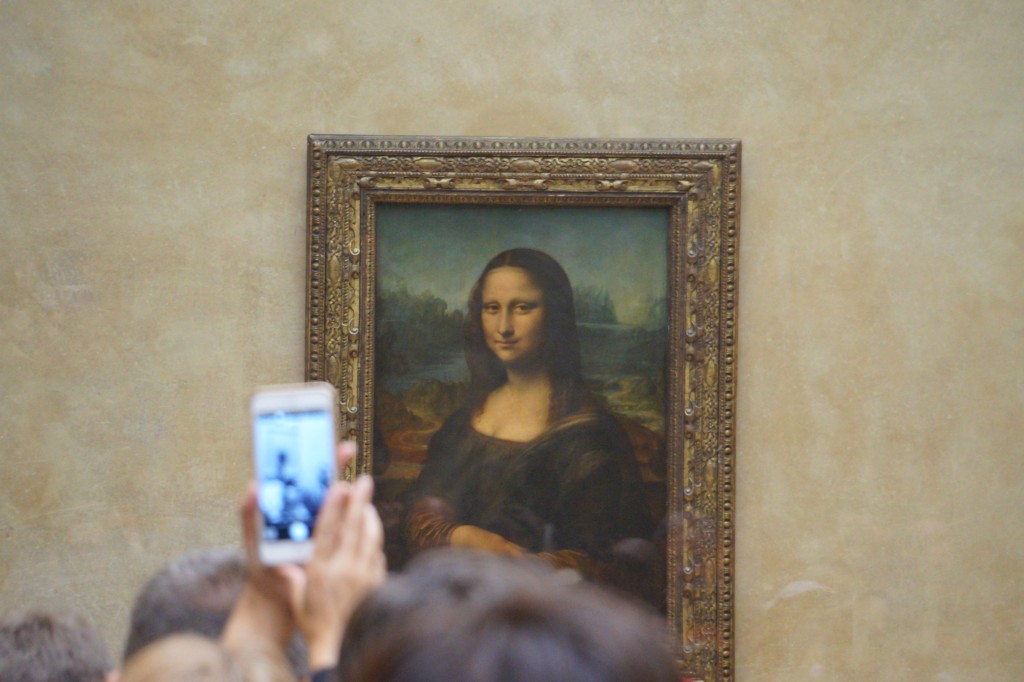 If you have never traveled on the metro in Paris, please check out my other posts on how to use the metro. Don't leave Paris without experiencing Le Metro!

We are ready to go back to Paris!!!
———————————————————————-
Turning Dreams into Memories,
One Vacation at a Time.
Bon Voyage!!!
As you might guess, this document is a compilation of information from our travels as well as from other travelers. I hope it has been of value to you.  Check out the important links below.
Don't hesitate to email us when you return from your trip with any suggestions that will make this document better for you and your fellow travelers!
You may also want to visit our Facebook page, www.Facebook.com/TeamEdwardsTravel