Last updated on April 4th, 2019 at 05:56 am
One of the joys of travel in Europe is that they have a great public transit system. In fact, on our trip to Europe, we did not rent a car. All of our travel was done on public transit, and it really was much easier that I thought it would be. Just make sure that you have Euros in your pocket beforehand.  More about planning for that part of your trip in another blog post.
The key is to study the info available about the Metro system before you leave home.  My wife bought me Fodor's Paris 25 Best  and Fodor's Amsterdam 25 Best. Both have city maps as well as Metro maps. I made sure to have the Metro map in my pocket at all times. (Below is a copy of the map provided by the Metro since I did not want to copy Fodor's.) Make notes so that you really know what you will be doing, how you will buy tickets, what you can buy before you leave home, etc… Nothing is worse than standing in a station and not knowing what to do. You watch people around you going up to the ticket machines, putting in their money and buying their tickets. If you did not do your homework, you would be lost unless you already live in a big city and use public transit everyday. Your only issue may be which lines to take to get where you want to go. If you are from the San Francisco area, it is like riding the BART train.  You buy the appropriate ticket from the machine, slip it into the slot at the turn style, take your ticket when it pops up and walk on through.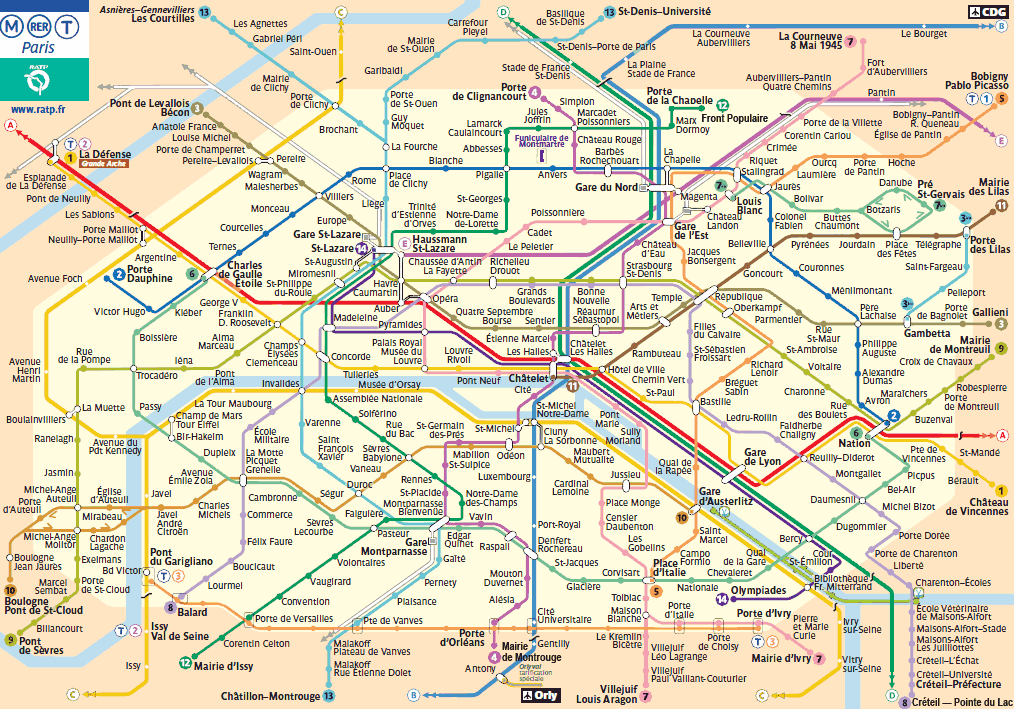 Another advantage of studying the Metro map before you leave home, is that you can better plan which hotel to use based upon access to the transit system.  I discovered after studying the transit map that in some locations, as many as three different trains intersected which would allow you to pick the appropriate train to go to different parts of Paris for sight seeing rather than to get on one train, go to another station and change trains to get where you wanted to go. You may still have to do that, but if you have three to chose from at one location, you have simplified the process. In Paris, we chose to stay where the #8, #6, and #10 lines intersected at the LaMotte-Picquet Grinelle station.
Since we arrived in Paris at Gare du Nord on the high speed train from Amsterdam, we had to buy a ticket from there to our final destination (Not like the movie, but where we were staying). It was as easy as walking up to the counter and asking for a ticket to Grenelle, or pointing at the map to where you want to go if you don't speak French.
It would also be very helpful if you learned a little of the language before the trip.  If you are not into learning the language, you can use Google Translate to type out your question and let it translate for you. Print it out and bring it with you.
For example, since we arrived in Gare du Nord, I would have typed  the following into Google Translate, "I want to buy a ticket from Gare du Nord to Grenelle," and it will give you "J'ai besoin d'un billet de la Gare du Nord à Grenelle, s'il vous plaît". Print that out before you leave home and hand it to the person at the ticket counter.
The ticket covers your passage South on the "RER B2" train and the connecting trip on the metro. The cost was less than 10 Euros per person. If you type that same statement into the regular Google search, you will find postings from several other travellers who can walk you through taking the B2 train South to Denfert-Rochereau, then walking to the #6 line to travel west toward Etoile. Lots of stairs – so I hope you packed light. If you don't want to go to that much trouble, maybe you should just get a taxi. Give them the name of your hotel and be prepared to pay closer to $100 Euros for the taxi, plus the cost of each bag.
The other thing is to learn is how to chose which train and which direction the train is going.  You may be able to see that you want to be on the blue line, but when you look at the signs, the names of the station you see listed may not be the one you want to go to. In Paris, for example, they list the name of the last station on the line for each direction.  If you look at the map, you will see the Number 8 (Purple) line in Paris has the name Balard for one direction and Creteil Pointe du Lac for the other direction (although it only shows Creteil on the signs at the station for the direction). The Number 6 (light green)line terminates at Charles de Gaulle Etoile (although it only shows Etoile on the signs at the station for the direction) on one end and at Nation at the other. The Number 10 (yellowish gold) line terminates at one end at Boulogne-Pont de St. Cloud on one end and Gare d'Austerlitz on the other. All we had to know to get back to our station at Grenelle was where we were in relation to it and then jump on the right train. You can see from the close up of the map below, where the #6, #8 and #10 line intersected at Grenelle. You will also be able to see the terminus at one end of the #6 at Charles de Gaulle Etiole (This is not the airport. Charles de Gaulle was just a popular guy) and #8 at Ballard.
Click this link for a map that you can enlarge. paris-metro-mini-map-2014
Make sure that you have already purchased tickets to simplify things. We bought a carnet of 10 tickets, 5 for each of us, for our daily travels about town as soon as we got off the train at the Grinelle station. We had to pick up a couple extras when we decided to take in more sights. Below, you see an example of a regular ticket on the Paris Metro.  I think they only cost about 1.70 Euros per ticket and they are good throughout the whole center part of Paris. If you will be there for a few weeks, you may want to buy a Pass rather than individual tickets. I figured that we would use 10-20 tickets during the time we were there, a couple per person per day.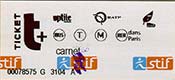 Don't forget to look at the front of the train when you hear it arriving at the station. Sometimes there are two different trains using the same line. For example, the intercity train, the "B" line, has two trains going north, B3 andB5 and two going south, B2 and B4. When you are headed to Charles De Gaule airport from downtown Paris, you want to make sure to get on B3, not B5 or you will end up in Mitry-Claye, where ever that is. You won't have an airplane waiting for you when you get there and you will have to buy another ticket to get back to Paris, then another ticket to get to the airport. Hopefully you will still make your flight.
Finally, make sure that you know which terminal you will be flying out of when you head to the airport.  For example, if you are taking the B3 line to Charles De Gaule from downtown Paris, it makes stops at each terminal.  If you get off at the wrong terminal, you will have to take the airport shuttle to the other terminal, dragging your luggage along when you do (Yes, this is the voice of experience.)
If you plan to visit Paris, here is a nice video about France worth viewing.

———————————————————————-
Turning Dreams into Memories,
One Vacation at a Time.
Bon Voyage!!!
As you might guess, this document is a compilation of information from our travels as well as from other travelers. I hope it has been of value to you.  Check out the important links below.
Don't hesitate to email us when you return from your trip with any suggestions that will make this document better for you and your fellow travelers!
You may also want to visit our Facebook page, www.Facebook.com/TeamEdwardsTravel