Last updated on February 5th, 2020 at 11:49 pm
This is one our favorite destinations. We first visited in April 2012 on a Panama Canal Cruise. We enjoyed it so much and as soon as we got home I booked a 2 week stay in November of that year. We spend a week at the Worldmark Coral Baja in San Jose del Cabo and a week at the Pueblo Bonito Blanco in Cabo San Lucas.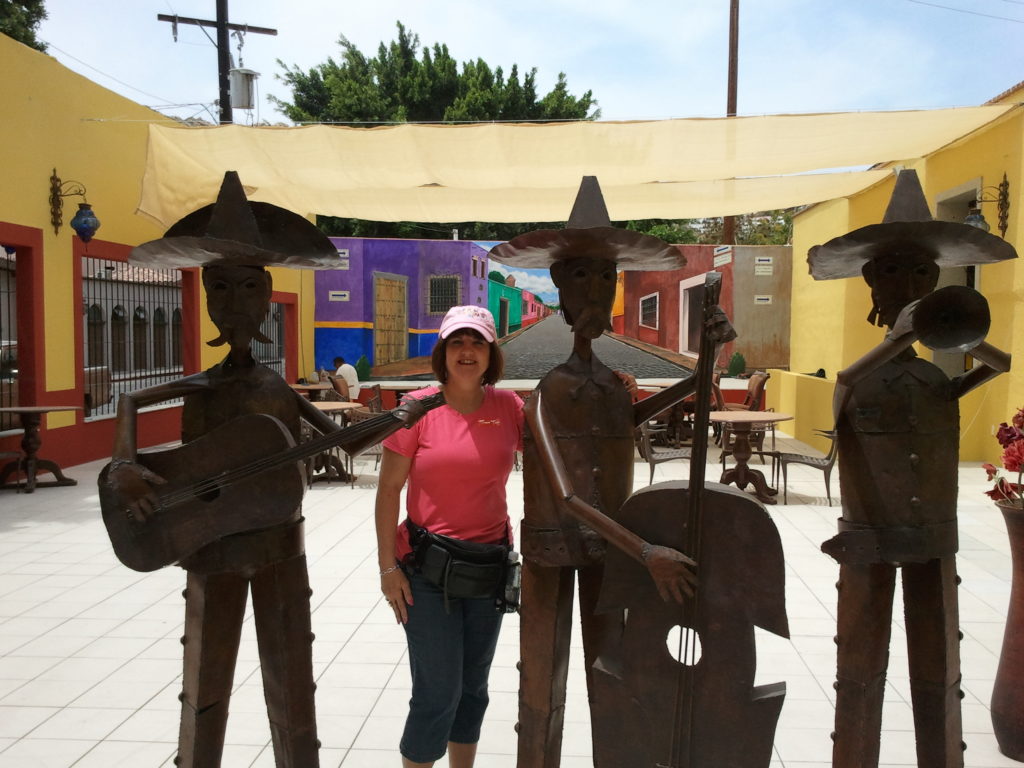 One of the fun things we did during the New Year's trip was the ziplining and rappelling. Like everything in Cabo, there are dozens of companies that offer excursions of all types.
Your concierge can set up your excursions for you. The companies will pick you up and drop you off at your resort at no extra charge. We often chose to drive to the location so that we can do something else afterwards without having to come back to the resort first.
For the ziplining and rappelling we chose Costa Azul Ziplines. It was great. There are many offering this service and they all sound alike. We recommend this one. It is just a couple of miles from most resorts in San Jose del Cabo, and only about 30 minutes from Cabo San Lucas.
The other thing we did during that trip was a small sunset dinner cruise. We chose Rissalena. It was wonderful. There were probably 20 people on board. A great way to make new friends and have fun too. Yes, we have tried the larger boats. Loud and fun, but sometimes a quiet sunset cruise out to the arch and up the west side of Cabo is just what you want.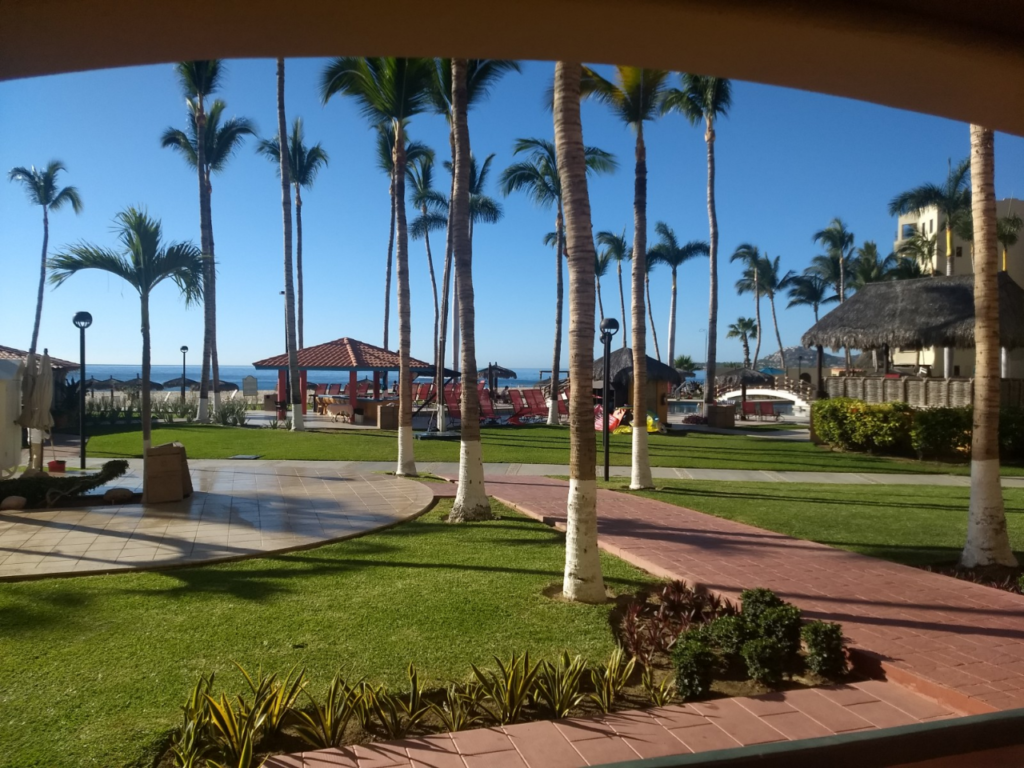 Both were great choices. Very different, but both were great.
We followed up with a New Years trip to celebrate the coming of 2015. We booked a week at Pueblo Bonito Blanco and a week at Pueblo Bonito Rose.
We returned again in March of 2019 and enjoyed a whale watching excursion.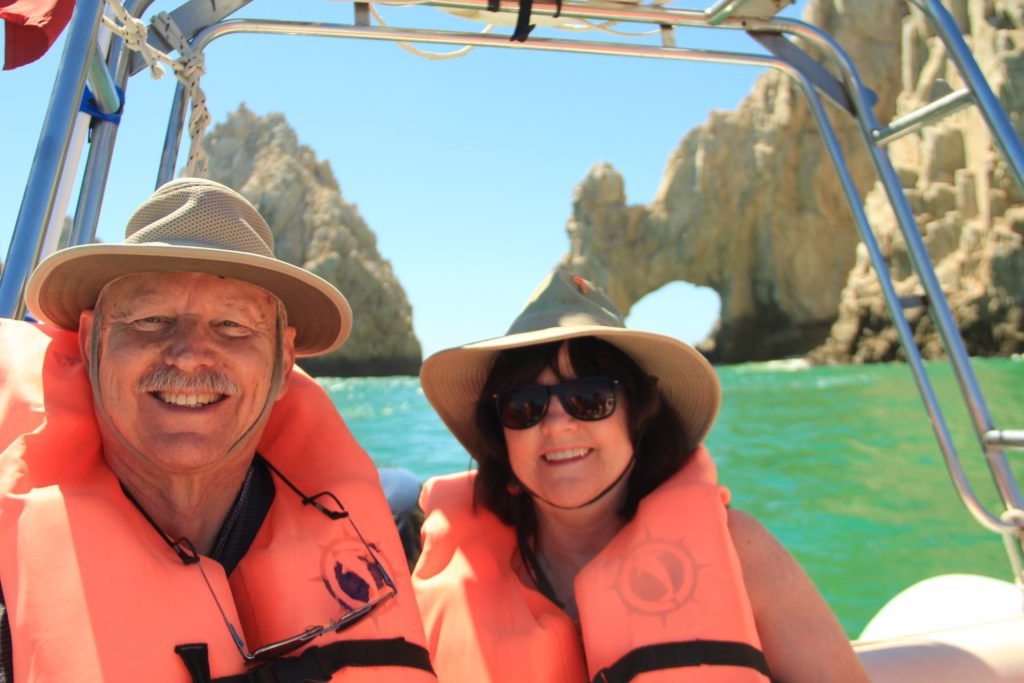 You probably wanted to see the whales, not us at Los Arcos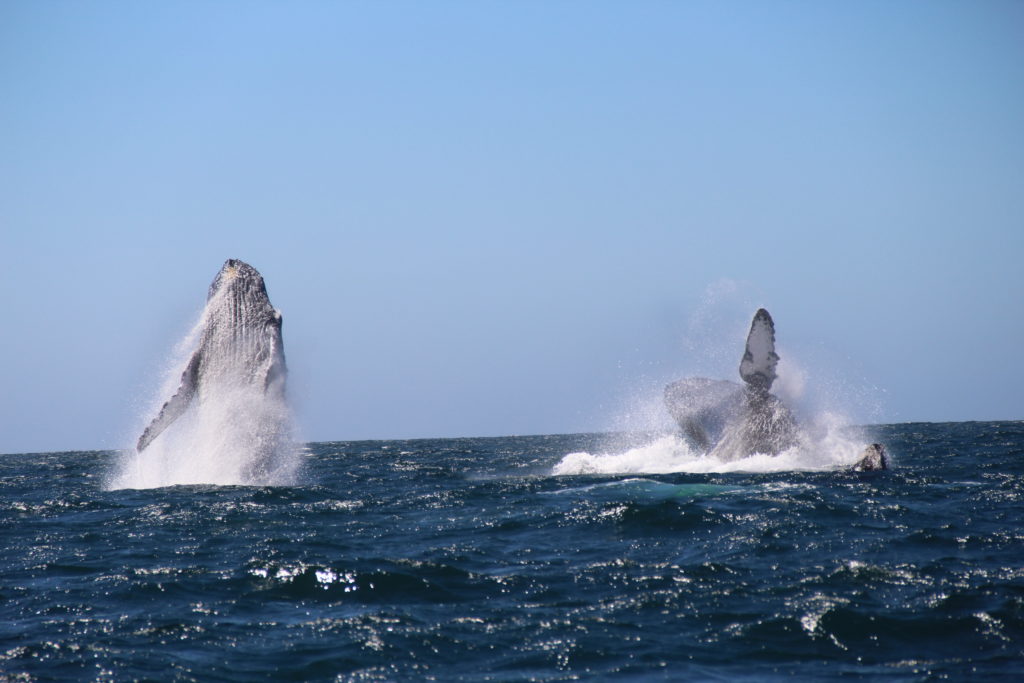 Although I won't cover every thing to see and do in this short page, you can find out a lot on other websites as well.  Our whale watching excursion was done by Cabo Expeditions.
If you like to plan and pay for your excursions before you leave home, you can do what I do most of the time. I use Viator to book them. In fact, the last trip to Africa, in 2018, was booked via Viator. This is especially important if you don't already have some recommendations from a friend. If you want to book your own excursions from the list of options available at Viator, then click this link. If you book from this link, I will make a little commission. I would rather that I make the commission than to have some stranger make it. Just a thought. The offerings on Viator do change over the years so I have not used all of them. Keep in mind that they offer free cancellation if done 24 hours before the excursion.
A great source of info is the unofficial Pueblo Bonito Owners Facebook page where you will get suggestions for great places to eat, the shuttle services, etc. https://www.facebook.com/groups/PB.owners/
For those of you who may be staying at Pueblo Bonito Sunset, on the Pacific Ocean, be very careful.  First of all, the beach there is not a great swimming beach. It is beautiful, but if you want to swim, take the shuttle to Pueblo Bonito Rose & Blanco and swim on the beach there.  Pueblo Bonito Sunset Resort Map.   The riptides there are very dangerous and people die there often when they try to swim where they should not.
There are dozens of great places to eat. I usually don't purchase the All Inclusive package. I would rather try out new places in town. Of course, to each his or her own.
One question that often comes up is the question of hurricanes. Yes, they get hurricanes in Cabo. The worse one in recent times was Hurricane Odile that hit Cabo on September 14, 2014. Yes, that was just a couple months before our New Years trip later that year.
Most of the hotels and resorts in San Jose del Cabo were damaged and closed for the season. Even the McDonalds and the Mega Store near the big roundabout were closed because of the damage.
Many people ask about when it is hurricane season.  I don't want to scare you away from a great vacation spot, but think about it before you book. Generally hurricane season in Cabo runs from June to October. Most of the storms come north towards Cabo, but turn to the west and threaten Hawaii.
If you are already in Cabo and you get a hurricane warning, you have to decide to get out or hunker down. My advise would be to get out. Don't wait. Call your airlines when you get the warning and change your flights immediately. Many people waited too long and were stranded in Cabo after the hurricane in 2014. Stranded without electricity, running water, etc… I would rather give up a few vacation days than get stuck in a mess like that, especially if I had my kids with me. Something to think about is who you fly with. We now fly to Cabo with Southwest Airlines because they don't charge you an arm and a leg to change your flights. Just don't wait too long.
As a final note on the subject, I always get travel insurance to cover such losses. Better safe than sorry. You may have to shell out for a last minute flight if you are not flying with Southwest, but I would not hesitate.
——————————————————————————-
When is Hurricane Season in Baja?

Generally, the season is from May to November.
| | | | |
| --- | --- | --- | --- |
| Month | Number | Month | Number |
| January | 0 | July | 10 |
| February | 0 | August | 17 |
| March | 0 | September | 13 |
| April | 0 | October | 53 |
| May | 0 | November | 0 |
| June | 2 | December | 0 |
Most tropical cyclone impacts occurred in the month of September. This coincides with the statistical peak in the eastern north Pacific hurricane season, which occurs in early September or late August.[117] Although hurricane season in the eastern north Pacific officially runs from May 15 to November 30,[118] no known tropical cyclones have impacted the peninsula in May, November, or outside the season.