Last updated on February 6th, 2020 at 12:58 am
How do I get a passport?
Paperwork
To apply for the passport, you will need the following paperwork: *see below for additional paperwork for minor's applications
Proof of US. Citizenship (can be certified U.S. Birth Certificate, or previous US Passport, or Consular Report of Birth Abroad, or Certificate of Naturalization/Citizenship)
Photo ID (can be valid driver's license, undamaged US passport not more than 15 years old, Certificate of Naturalization, valid government ID, valid military ID) and copy of the ID
Passport photo (best to be taken at the Post Office itself or someplace reputable like a UPS Store to ensure the photos are properly taken)Form DS-11 (

filled out but not signed

). Personal/Bank check or money order (made out to the Department of State for $110 – if for an adult – or $80 – if a minor under the age of 16)
Money order or bank check (or credit card/personal check at some locations) for $25 to be paid to the facility
Guide to International Travel
DS-11 Passport Application
Where To Apply
For your first passport, you must apply in person to one of the following locations:
Authorized Passport Acceptance Facility – this includes places such as post offices, libraries, or municipal offices. Click here to search for a location. These locations can handle standard and expedited passport processing. Many of these locations will require an appointment to be made.
Department of State Passport Agency – to use these locations, you must pay the expedited fee of $60. You must make an appointment as well as show proof of travel (for most locations). Click here to search for a Passport Agency and use this number to make your appointment – 877-487-2778
If you are renewing your passport, and it is still valid, you need to go to the Department of State page and go to the Forms Page. Once there, look for the DS-82 form.
Passports for Minors
To apply for a passport for a minor, you must have all the paperwork from above for the minor plus – evidence of parental relationship, parental consent (if one parent cannot be there, they must submit a signed, notarized form that can be found here). Both parents/guardians must be present or have the above form signed and notarized if one of them cannot
be present.
How long will it take?
It can take about 4-6 weeks for standard passport processing and 2-3 weeks for expedited service. The expedited service fee is $60.
Planning a lot of overseas trips in the next 10 years?
If you plan on doing a lot of international travel, consider applying for the 52 page passport book (instead of the standard 28 page passport book). It costs the same as a standard passport book but gives you 26 extra pages for visas. Since many countries require you
to have one or two blank pages for entry visas, it may be a good idea to get the 52 page passport book. Check at the top of the application for the 52 page passport book (it is not a guarantee, but you will get it unless supplies are constrained).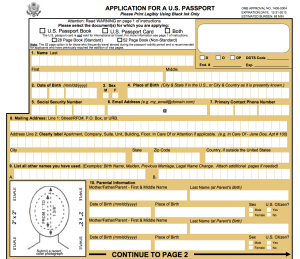 How much does a passport cost?
Fees for First-time Passport Applicants

Passport
Passport Fee
Execution Fee
Expedited Fee
Total
Adult Passport Book (standard time)
$110
$25
$135
Adult Passport Book (expedited)
$110
$25
$60
$195
Minor Passport Book (standard
time)
$80
$25
$105
Minor
Passport Book (expedited)
$80
$25
$60
$165
If you have more questions, don't hesitate to send me an email. You can also check directly with the Department of State.
*Remember that when you appear at the post office to turn in your paperwork, you have to do it in person. You have to sign in front of the postal clerk. If you are doing a passport for your child and both parents cannot be there in front of the postal clerk, you need a notarized document for the missing parent.
Do I need a passport when I am cruising, or only flying?
Do I need a passport if I am flying from the US to a foreign country or to the US from a foreign country?
Yes, you will need a passport if you fly to the US from a foreign country or fly to a foreign country from the US.
Should you lose your passport, notify the local authorities and the nearest US embassy. If you return to the US without a passport or with an expired passport, you may be subject to a passport waiver fee.
It is recommended that you make copies of all other documents (driver's license, medical card, airline tickets, etc.) and keep them with your passport copy. Should you find yourself in any type of difficulty abroad, contact the US Consulate Office. Always know where your passport is. Before you leave home make 3 copies of your passport. Put one in your carry-on, one in your suitcase, and one in your hotel safe.
If I am taking a cruise, do I need a passport?
Open Loop Itinerary
An open loop itinerary is one where you leave the US and your destination is a foreign port
or a different port than the one you leave from. Also, if you arrive in the US but you started or left the trip from a different US port or from a foreign country.
If you are flying to a foreign destination to board your cruise, or if you are cruising from the US to a foreign destination, you are travelling on an open loop itinerary. Yes you do need a passport. In fact, you cannot get onto the plane if you are flying to or from the US without a passport.
If you cruise from one US port to different US port, you are on an open loop itinerary and you need to have a passport. A good example would be a Panama Canal Cruise where you travel from Florida to California through the Canal.
During a cruise to Europe, Asia, Africa and Australia, passengers aboard any vessel are  required to have a passport in concordance with U.S. law.
Closed Loop Itinerary
A closed loop itinerary is one where you leave the US and retrun to the US at the same port.
You don't have to carry a passport if you are on a closed loop itinerary. I would carry one just in case you are off the ship visiting a foreign country and accidentally get left behind when the ship departs. Additionally, I would rather carry a passport than to have to carry my birth certificate along with identification.
Because of the Western Hemisphere Travel Initiative (WHTI), however, cruisers don't have to carry a passport if they're making their way to Canada, Mexico or the Caribbean and returning to the same port where they started.. Because the latter cruise itineraries start and end in a U.S. port, they are considered "closed loop" voyages and fall share the same regulations as any domestic trip.
But, keep in mind that for those who travel on a closed loop itinerary, all they have to bring is a government-issued photo I.D., such as a driver's license, along with a birth certificate. A birth certificate is also necessary for young children who do not yet have a driver's license.
Of course, there are numerous U.S. territories – including Guam, Puerto Rico, the U.S. Virgin Islands and American Samoa – that do not require a passport if travelers are U.S. citizens.
What's the difference between a passport and passport card?
While a passport book contains all of the necessary information for international travel, a passport card contains a sensitive chip that makes scanning easier at most U.S. points of entry. Cards are not, however, usable for air travel. Currently, passport books cost $100 for adults and are good for 10 years, while those for children under the age of 15 cost $85 and last for five years. Cards, on the other hand, are less than half of the price at $45 and $35 for the same age ranges.
Travel Visas
Depending on where a cruise ship sails, some international destinations require travel visas to enter the country. While valid passports are necessary at all European and Asian locales, Russia, Turkey and Egypt also require tourist visas.
To be on the safer side, international travelers should bring a passport along to prevent any hassle while abroad.