Last updated on February 16th, 2020 at 07:27 pm
The logical answer might be to just call a taxi. I don't know about you, but I am not too fond of taxi cabs. Besides that, I like to book my transfers before I leave home. Call me paranoid, but that is what I do.
The back story; the airlines have changed our flights from Venice to Paris, and I don't think there is enough time to make our flight after the ship docks and we get off and get a ride to the airport. Unfortunately, as far as the airlines are concerned, the time difference is not enough to qualify for us getting a new flight without paying about $350 per person in penalties along with any difference in the cost of the tickets.
Our solution is to disembark at Trieste, Italy and take the train to Venice and stay the night close to the airport so that we an make our flight. That leaves us with the need to get from the cruise port to the train station in Trieste as well as from the train station in Venice (really Venezia S. Lucia in Mestre, Italy) to the hotel near Marco Polo International airport.
After giving up on Lyft and Uber, I found the perfect solution. GoOpti. Their fares are great, especially compared to a cab. Only 30 Euros in Trieste and 18 Euros in Mestsre for the two of us. That plus 14.80 Euros for the train ride and about 150 Euros for the hotel room sure beats the penalty for trying to change our flights.
The best thing, of course, is a sightseeing train ride in Italy that will cost less than the cost for an excursion that we could buy through the cruise line.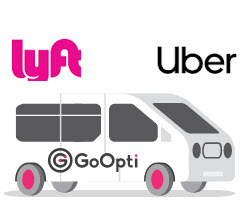 ———————————————————————-
Turning Dreams into Memories,
One Vacation at a Time.
Bon Voyage!!!
As you might guess, this document is a compilation of information from our travels as well as from other travelers. I hope it has been of value to you.  Check out the important links below.
Don't hesitate to email us when you return from your trip with any suggestions that will make this document better for you and your fellow travelers!
You may also want to visit our Facebook page, www.Facebook.com/TeamEdwardsTravel