Thinking About a
Self-Guided Trip To Europe?
If you are planning a trip to Europe where you will be traveling via airplanes, trains and the metro and you have never done it here at home, you may be in for a rude awakening.
Most of our trips had been by car or by car to the airport followed with a rental car or a shuttle to the hotel or resort.
Each one of us almost always had one 24″-26″ roller bag that was checked plus a 22″ carry on plus a personal bag like a purse or computer case or book bag style backpack for personal stuff that you wanted to have handy at all times.
We were not ready for the challenge of hauling all of our suitcases up and down 2-3 flights of stairs to get from one metro train to another, nor were we really familiar with how to navigate the metro system with all of those bags.
If you are planning such a trip, I suggest that you do what I heard Rick Steves say in one of his videos(that you will find on this page). He said to pack your bags, take a short trip via train, bus and subway or metro and spend the night and return home one or two days later. You will be ready to trade in your big suitcase and learn to pack light so that you are not lugging 80 – 100 pounds of stuff with you on your European trip. You will enjoy that trim much more if you can learn to travel light.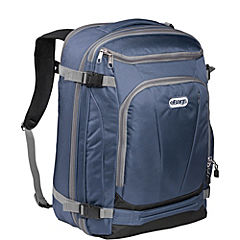 On this trip we will start in Sacramento and spend a couple of nights in San Francisco. First, we will have a friend drop us at the Amtrack train station in Sacramento. From there we will travel to Richmond, take the BART(our version of the Metro) to San Francisco, then walk to our hotel. We will do the Hop on-Hop off bus tour of the city, just like we were tourists, to get the lay of the land. On Saturday we will visit the great farmer's market at the Ferry Building, then return home on Sunday.
You can try the same thing wherever you live. Do it or you will hate your self and be miserable on your European Vacation.