Last updated on February 5th, 2020 at 11:39 pm
Many of you have dreamed of a vacation or photo safari in Africa. Many of you already have done it and as they say in Kenya, "You have be bitten by the African Bedbug and will want to come back." So true. we visited South Africa and Zambia in 2015 and went back in 2018 to visit Kenya and Tanzania. Click here to view my posts on South Africa, Zambia & Victoria Falls, and Planning the Kenya and Tanzania trip.
Both trips were wonderful, completely different, but wonderful.
I don't claim to be a great videographer, but take a look my favorite video clip from our trip.
On our trip to South Africa and Zambia, we traveled with friends who have been to Africa a dozen times and did a DIY trip. We rented a 10 passenger van, stayed at a timeshare in Hazyview using an RCI Exchange (Sanbonani Resort & Hotel), and went into Kruger every day for a week. We planned ahead and had daily reservations to enter the park as well as our South Africa National Park passes. Later we flew to Zambia and stayed at the Royal Livingston and walked over to Victoria Falls. Awesome!!!
It was a great first trip. We were in full control of our trip, but probably missed out on viewing some wildlife because we did not use a professional guide.
On our trip to Kenya and Tanzania, we booked a complete photo safari which provided guides who handled the day to day issues such as park entrance fees, accommodations, meals, etc… We had to take care of procuring our visas for Kenya and Tanzania. We did the visa online for Kenya from home but did the one for Tanzania at the border. We were not willing to send our passports to them in hopes of getting them back before our trip. Of course we saw more wildlife on this trip. The professional guides talk to each other on their radios and when one guide finds a lion kill or something like that, the word gets out and you can see land cruisers heading to the location from all directions. Soon there are 20 to 30 vehicles with eager photographers trying to get that once in a lifetime shot.
We found our trip on Viator since we did not know any guides in Kenya at the time. Now we have a local contact so we know who to contact for our next trip to Kenya or Tanzania or for a trip for one of our friends to those locations.
Since returning from our trip to Kenya I wanted to gain more knowledge regarding planning trips for friends who would want to go to Kenya.
I completed the Kenya Authorized Travel Specialist (KATS) training as well as the other 4 modules in the Kenya Travel Specialist Series.
Adventure Experiences in Kenya
Sustainable Kenya
Beyond Wilderness
Safaris in Kenya
With that behind me, I am ready to help you plan a trip to Kenya or Tanzania. Most people want to go to Kenya to see the wildlife, but maybe you're a marathon runner and want to train or run with some of the best long distance runners in Kenya. Another option would be to do an eco-tour where you actually work at a local conservancy for a couple of weeks to learn more about African wildlife while you help local efforts to complete studies or conservation projects.
Even with that training, I wanted to know more so that I could help friends who wanted to visit other parts of Africa. So I teamed up with a training program called Africa Answers and so far have taken several of their classes.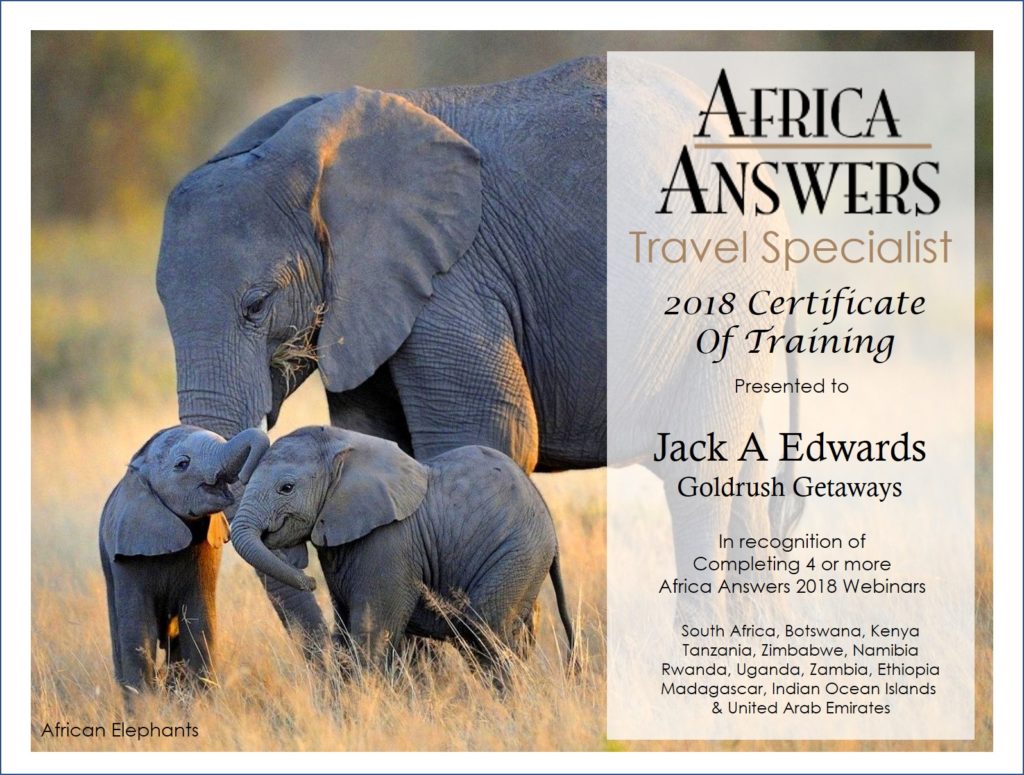 As you can see, I have been working on better equipping myself to provide assistance to people who want to travel to Africa. Of course, I don't know everything, but who does?  If you want to learn more about the wonderful options for a visit to Africa, I would be happy to send you a copy of the Africa Travel Planning Guide noted below.
Let me know what you want to do and I will help you make your dreams come true. Keep in mind that you want to start planning about a year out to make sure that you can do what you want to do.
It is January 2019 as I edit this page and we are already saving our money and planning our 2020 Robin Pope Safari. I don't know if you have heard of Robin Pope Safaris, but his camps and safaris are among the very best in Malawi, Zambia and Zimbabwe.
Another thing to keep in mind when flying into the smaller airports in the smaller airplanes, is that your need to leave your large 50 pound checked bag at home. Your regular carry-on bag can have a max weight of 33 pounds/15kg, and it will become checked baggage. Your personal bag will be limited to 11 pounds/5 kg. Just enough for some camera equipment, your meds, your documents and a change of underwear.
The bottom line is that you don't need to carry much anyway. Here is what to bring on safari.
A hat, high-strength sun screen, strong insect repellent, anti-histamine cream/tablets, two to three sets of bush-colored safari outfits, one to two sets of casual evening clothes and a medium-weight sweater plus a warm jacket if you come in winter (June – early August). Pack soft bags, not hard cases.
In the mean time, we are taking a year away from Africa. Early last year we started planning a trip to New Zealand and Australia for 2019. If you are flying economy on Air New Zealand, not basic economy, your carry-on bag is limited to 15 pounds/7kg. Time to take out the extra clothes and plan on doing laundry on your trip.
Click this link to view the Africa Travel Planning Guide. If you would prefer a hard copy, please send me an email requesting one to TeamEdwardsTravel@gmail.com