Last updated on April 4th, 2019 at 05:53 am
During our first trip to Europe, to take a Viking River Cruise down the Rhine, from Basel, Switzerland to Amsterdam, we planned a three day pre-cruise trip to Zurich to see some sights and to get over the jet lag.
Good thing we did, because when we got to our hotel in Zurich, we went out to explore the town. It was obvious after a few false starts about what to see, that we realized that we were too strung out to make any decision other than to return to the hotel and get some sleep.
After a nap of a couple of hours, we were ready to explore. We went to the train station to scope out where we would be catching the train to Basel in just a couple of days.
I even picked up our tickets from Zurich to Basel while we were there. We wandered throughout the station to see where we would catch the train and watched a couple of trains come and go so that we knew that we would be comfortable when it was time to head to Basel for our river cruise.  In fact, we found an train leaving for Basel and checked it out as well.
It was a beautiful train station, but most surprising, was that there was a compete shopping center under the station. Grocery store, restaraunts, deli stand for take-away sandwiches (which we used before our excursion on our second day in Zurich) as well as a bottle shop where we picked up a nice bottle of wine for back in our room.
We wandered through the Migras grocery store. Always fun to see what is up for sale in a foreign super market. I did note that the wine was across the hallway in a bottle shop, and that their deli was adjacent to the store, but through a separate entrance. We picked up the makings for dinner as well as a couple of sandwiches for our excursion to the Alps the following day.
We walked around the downtown district, enjoying the sights and taking several photos. We also checked out the location for our tour to the Alps for the next day. I called to verify our reservations and then we walked back to your hotel to settle in for the day. This is a beautiful city and we really were looking forward to our bus tour to the Alps the next morning.
We met up with our bus for the trip to Mt Titlis at the Sihlquai Bus Terminal. (To make it easier for you to navigate to the bus terminal in Zurich, some of the photos like the one below, has been captured from Google Maps Street View and has a live link back to the original Google Map. Click on the photo so that you can look around to get your bearings.  For example, click on the photo below, turn around, and follow the tracks back toward the main train station in Zurich, then turn around and navigate back so that you are comfortable when you arrive. This is a great tool. I always try to walk the streets before I actually visit a new city.)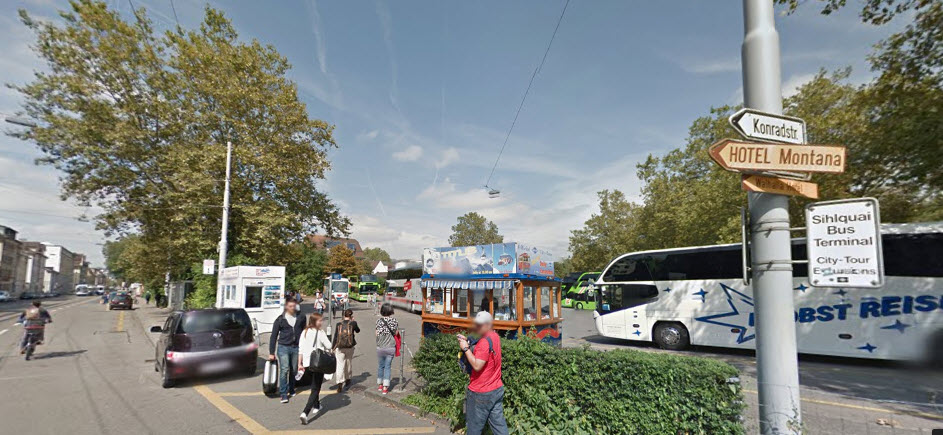 The guide, Trudy Carvalho from the Best of Switzerland Tours, was very friendly and told us about the sights we were seeing in English, followed by the same information in French and Spanish.
The sights were beautiful. Everything was so green. We made two stops in Lucerne, first to visit the Lion Cave then to visit the covered bridge and farmer's market.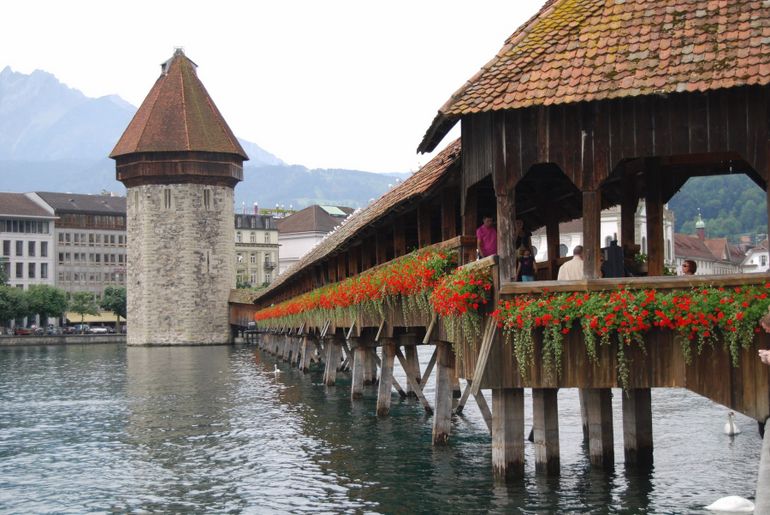 Above is the Chapel Bridge, the oldest covered bridge in Europe.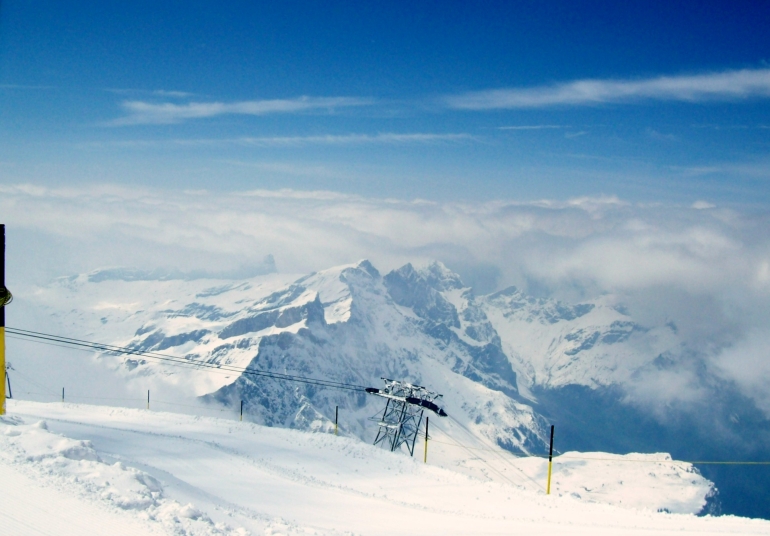 After our stops in Lucerne, we were off to Engelberg, Switzerland. Upon arrival in the small town of Engelberg, we went to the cable car facility to ride three different cable cars to the top of the mountain. One of them was the famous Rotair, a rotating cable car, to travel to the summit of gorgeous Mt Titlis, central Switzerland's highest mountain. Although there was a blowing snow blizzard at the top of the mountain, is was still a sight to see.
We visited an ice cave and went out on a suspension bridge that hung along the side of a cliff. We bought a cup of hot chocolate and enjoyed our sandwiches from the Migras deli that we brought with us.
On the ride back down, we talked with a local resident who was up there to ski. He shared a photo of what it looked like earlier that morning before the snow started to fly. Beautiful. Looks like we will have to go back so that we can see it when the snow is not blowing.
———————————————————————-
Turning Dreams into Memories,
One Vacation at a Time.
Bon Voyage!!!
As you might guess, this document is a compilation of information from our travels as well as from other travelers. I hope it has been of value to you.  Check out the important links below.
Don't hesitate to email us when you return from your trip with any suggestions that will make this document better for you and your fellow travelers!
You may also want to visit our Facebook page, www.Facebook.com/TeamEdwardsTravel