Last updated on February 6th, 2020 at 12:01 am
As we prepared for our trip to South Africa in 2015, I always look for videos on YouTube as well as on my Amazon Prime account to learn more about the place we are visiting. I found and saved several videos which provided me with some insight as to the places we were going to visit, some of which are saved below. As you all know, a picture is worth a thousand words. Well a video is worth thousands more. So, rather than posting all of my non professional photos, I have links to the videos that we used to plan our trip.
This was our first trip to Africa. Although I am old enough to have watched Tarzan, Mutual of Omaha's Wild Kingdom and Daktari on TV as a kid, and even enjoyed "Out of Africa" and "Born Free" as a young adult, and I spent 30 years as a conservation officer in California, Africa was not at the top of my bucket list. It was there, but seeing more of Europe or Australia and New Zealand were higher on my list. In fact, we got to Africa quite by accident.
As a side note, for us, and I am sure for many of you, Africa is often perceived as a deep, dark, scary place. We have all read about the Boer wars from 100 years ago to the genocide and internal fighting as former colonies became independent and internal factions fought for power. This has happened in various countries in Africa. In some countries, the wars were so terrible that even the wildlife was almost completely decimated as well. Today, there are concerns about terrorist activities. Think of the bombings in South Africa in the 1990's, the Westgate Shopping Mall shootings in Nairobi in 2013.  Just remember that it did not just happen in Africa. It also happened in the former Czechoslovakia and Yugoslavia. Don't forget that it happened here too. Remember the Civil War that you read about in school. The bottom line, for us, is that bad things happen. For us in the United States, there are neighborhoods in many big cities that are more dangerous than any place that we would visit in the rest of the world. You have to choose for yourself. Stay home or see the world. Heck, all of us are more likely to die in a vehicle accident close to home than we are in a terrorist event or even being eaten by a lion. So, on with the adventure.
For the first time ever, we traveled with friends on a Med cruise in 2014. It was so much fun, at the end of the trip we were discussing where to visit in 2015. We said that we were planning to go on a Viking Danube River Cruise. Our friends, whom I worked with and have known for over 30 years said that they were returning to Africa for the 10th or 11th time. Our friends, Dewayne and his wife Llanda, suggested that we go with them to Africa in 2015 and that they would join us on the Danube in 2016. How could we pass that up. A built in guide for our first trip to Africa. So, we were on for a trip to Jewel of South Africa, Kruger National Park.
As we planned the trip together, DeWayne's brother and his wife decided to join us. They had never traveled so I suggested that we do an overnight or a long layover in Zurich on the way to Johannesburg and an overnight in Paris on the way home. That way, they could see and enjoy a taste of Europe at little or no additional cost, other than a hotel room and meals; maybe an excursion or two. To really make the trip special, after our week at Kruger, we spent a couple of nights at the Royal Livingston Lodge in Zambia, on the Zambezi River, just a short walk from Victoria Falls.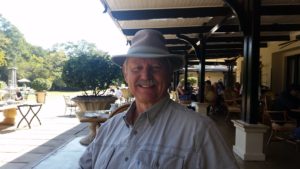 The plan was created. Since we were going to be going to a family reunion in July, the Africa trip was planned for late June. We met up with our friends at Dulles International and flew to Zurich. We planned a 14+ hour layover and took the train into town, did a city tour, a trip across the lake on a ferry and a gondola ride to the top of the mountain. Following a great sidewalk cafe lunch, we hopped the train back to the airport and flew on to Johannesburg.
At Johannesburg, we picked up our 10 passenger van for the 6 of us and headed to Pretoria for an overnight stay at a B&B. We met up with friends that DeWayne and Llanda had made on earlier trips for a great dinner at their house. The next morning we drove to the Sanbonani Resort in Hazyview, just a couple miles from the Phabeni gate into Kruger. The lodge was an RCI trade, so no out of pocket for lodging, but we did enjoy a spa day while we were there.
Each day, early, we mounted up and arrived at the Phabeni gate by 7:00 am. Let me digress a bit here. All of us had already purchased our National Park Annual Pass before leaving home. Additionally, DeWayne had already purchased daily day passes to enter the park with our vehicle. Since they limited the number of cars into the park each day, we made sure to be there early so that we did not loose our chance to enter the park, it was also the perfect time for a morning game drive. Yes, I know, some of you would have been on the road earlier for better viewing, but this is what worked for our group.
Using DeWayne's experience, the info board at the gate into the park, and a short discussion with the ranger, we planned out each day's travel route. Since you cannot get out of your vehicle, except in specified locations where we were not likely to be a morning snack for a pride of lions, we did plan a couple of rest stops at various locations along our route for bathroom and lunch breaks. Another rule at Kruger is that you cannot be driving around the park before sunrise or after sunset. You have to be in one of their camps or out of the park, otherwise you were subject to fines and ejection from the park.So we really paid attention to the time during the afternoon as well as the distance to the closest gate. Yes, we did not always go out the same gate we entered.
There are not enough words to express how awesome the wildlife viewing was during this trip. Each one of us took hundreds, if not thousands of photos. We even saw all of the big 5 except the leopard. What I thought of as a trip of a lifetime became more, much more. As they say in Africa, we were bitten by the Africa Bug, and had to plan for a return trip. No wonder DeWayne and Llanda had already been there so many times. In fact, we planned for a return trip in 2018 to see a different part of Africa.
From my point of view, I wanted to experience various ways to see Africa. We did our own self-drive safari on this trip. Yes, we didn't do a full on self-drive safari where we camped in the bush, but it was still a self-drive vacation. In 2018 our plan was to return for a guided safari in Kenya and Tanzania. A few years later we figured we would plan to visit a Robin Pope camp for a completely different experience.
I must say, this trip was more than I expected. We loved seeing all the wildlife throughout the southern part of Kruger National Park. Did not get to the northern part of the park, so I guess we need to go back to Kruger sometime in the future.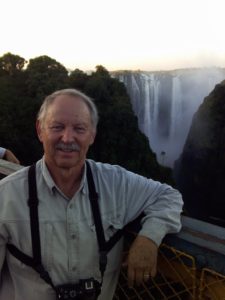 As I noted above, we also did a side trip to Victoria Falls in Zambia. I have seen Niagara Falls, but Victoria Falls took my breath away. We stayed at the wonderful Royal Livingston Hotel. I have not stayed in a better facility in my life. It was awesome as well.
Of course, we missed the great migration since we were in South Africa. As I said earlier, we just have to go back and visit Kenya and Tanzania so that we can see the famous Mara River and part of the great migration of wildebeests through the Serengeti. Want to visit a Masai village as well.
We are already saving our money because next trip to be a guided tow week photo safari. Since we are already planning that trip, it is time for me to start writing up the planning process. Of course, we will need more shots for that trip. We will visit areas where there are concerns for Yellow Fever, and of course Tsetse flies.
As usual, we really don't want to be flying all the way from California to Africa without a break so I think we will finally plan a stop-over in London. Not just a couple hours at Heathrow, enroute to the next destination. Yes, London England, Stonehenge, etc… have been on my bucket list much longer than Africa, so it is time to put that trip together. I have finally decided that there isn't a once in a lifetime trip on my bucket list any longer. So far, I always want to go back and see what we missed on the first trip. You cannot experience everything in a 1 or 2 week vacation.
So, I need to get back to planning our first Viking Danube River Cruise, with side trips to the locations for the filming  of the Sound of Music and a few extra days in Budapest and maybe a Andre Rieu concert in Vienna. I really want to see his concert in his hometown of Maastrict in the Netherlands, but that is still a few ticks down the bucket list. We still have to find time and money for a trip to New Zealand and Australia, probably in 2019.
South Africa Videos
Wildlife at Kruger

The Big 5 at Kruger

South Africa Tourist Video

Cape Buffalo vs Crocodile

Wildebeest vs Log

The Lion Sleeps Tonight

The Lion Sleeps Tonight (Original African Version)

The Lion Sleeps Tonight (The Beauty of Africa)

I know that this one is not from South Africa, but it is fun.
By the way, if you would like assistance in planning a trip to Africa, don't hesitate to contact us.
What's better than a holiday in Kruger? A Kruger holiday with the best roads mapped out for you. Kruger Self-drive – Routes, Roads and Ratings is your guide to the roads in SA's flagship park, with 79 suggested routes covering all camps.
After our trip I ordered Kruger Self-drive – Routes, Roads and Ratings which came for Christmas 2015, for only R450 and I saved 50 Rand.  I found out about this book through our annual membership to the South Africa National Parks which we purchased before our trip.  Although it was too late to use for planning our trip, I got to enjoy reliving the trip in my mind as I went through the book. I don't know if it is still available, but check it out below.
Updates!!!
Order now   I checked, February 2020, and it is on sale for 595 Rand, which is about $40 dollars.
Click this link to view the Africa Travel Planning Guide. If you would prefer a hard copy, please send me an email requesting one to TeamEdwardsTravel@gmail.com