Last updated on April 4th, 2019 at 05:51 am
Just a few weeks ago, a friend was asking about our wedding anniversary trip to Europe back in 2014. Said that he wanted to take his wife on a similar trip in the fall of 2016 for their 25th wedding anniversary. I told him that I would be happy to help them put together a trip, but that I expected him to do a test run before that.
What, a test run? Yes, since we learned so much from our first trip to Europe in 2013 which made out trip in 2014 so much better, I realized that my friend needed to really experience traveling the way we did so that he could avoid the pain of hauling 2 large roller bags and 2 carry on bags and 2 personal bags like we did in 2013. I even remember watching a Rick Steves video where he suggested loading you bags and taking short weekend trip to get the feel of how much a pain the excess baggage can be. (Here is a link to the Rick Steves video as well as other packing light videos.)
It does not make sense to most of us because we generally travel in the US and are only hauling bags from the baggage claim area to the rental car bus and from the bus to the rental car and from there to the hotel room.  When we traveled to Europe, we used public transit, not rental cars. When you take trains, some of which are double deckers, and take metro lines some of which are three flights of long stairs below ground, without an elevator, you learn quickly what a pain in the back it is to haul those heavy 50 pound roller bags up and down stairs.
So, I told him that he should take a test run of a trip that uses the same type of transportation that he would use in Europe, and of course, to load their suitcases as if they were headed to Europe. First of all, they will take the Capital Corridor train from Sacramento to Richmond, transfer to the BART Metro Train from Richmond to San Francisco. Depending upon which hotel they staying at, they can get off at Embarcadero, Montgomery, Powell or Civic Center, etc… From there, they walk to their hotel, hauling their suitcases.
Then, while in San Francisco, they should spend a day on one of the hop-on hop-off buses to take a tour of the city. Get off and enjoy the various stops just like they might do in Paris. This is a great way to get the feel for a city that you have never visited before. You get to get a look at all of the main sights so that you can decide which ones you want to visit and spend more time exploring.  I think they enjoy food as much as we do and they should check out the great Farmer's Market at the Ferry Building.
Of course, he should plan for a nice 24th anniversary dinner with his wife and enjoy a wonderful test run visit to San Francisco.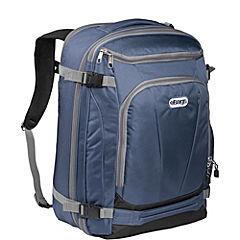 How much do you want to bet that they will lighten the load before they take their big trip in 2016. As I mentioned earlier, we went from 2 large roller bags and 2 carry on bags and 2 personal bags to 2 backpack style carry on bags and 2 small backpacks like our kids use for their books in high school. Take a look at my earlier post about suitcases.
If you have not tired this trip, you should do it if you live anywhere within a hundred miles or so of San Francisco. We just did a similar trip. We spent 5 days at our timeshare in Napa and did two day trips into San Francisco. We drove from Napa to the El Cerrito BART station and took the train into the Embarcadero station in San Francisco. Spent the day at the Farmer's Market on Saturday. On Sunday, we made a return trip and got on the hop-on hop-off bus for a day trip throughout the city. We hopped off and on, did a lot of walking through Chinatown and various other areas. A great trip. No downtown SF parking challenges either. Of course, since we were staying in Napa, we only had our small backpacks because you always want to carry a jacket with you, maybe some snacks for a little picnic lunch as well.
If you have never used public transit, or BART or other types of metro train systems, you really do want to try those things out here in the US where at least you can read the signs. Don't wait until you get to Europe to learn. Most transit systems are organized by the names of the stops at each end of the line. For example, the BART train that I noted here today is the Richmond-Daly City line. When you are looking for the right train, because several different trains use the same underground tracks, look for the name of the town at the end of the line in the direction you are traveling. I think BART has 5 or 6 lines. Some are not in use on weekends so you have to be ready to use a different line to get where you are going. Also, you put your ticket in the slot to get into the station and you put it in the slot again to exit. If you did not put enough $ when you bought the ticket, you will have to add $ to it to get out of the station. For example, currently the cost from the El Cerrito station to the Civic Center is $5.40. If you bought 2 $5 tickets because you were in a rush, you will get into the station and get to the Civic Center station, but you have to take each ticket to the machine on the wall to add an extra $.40 to each one to exit the station.
Check out this video on how to buy BART tickets.
I recently created a page on this topic with several videos for you. Check it out.
Remember, life is short, vacation today. You can always rest later. Don't wait until "sometime" to see the world. If you wait until then, you may not be able to do it. Do it while your health is good.
———————————————————————-
Turning Dreams into Memories,
One Vacation at a Time.
Bon Voyage!!!
As you might guess, this document is a compilation of information from our travels as well as from other travelers. I hope it has been of value to you.  Check out the important links below.
Don't hesitate to email us when you return from your trip with any suggestions that will make this document better for you and your fellow travelers!
You may also want to visit our Facebook page, www.Facebook.com/TeamEdwardsTravel